You are here
"The Incest Diary" is a shocking, highly literary new memoir of child sexual abuse.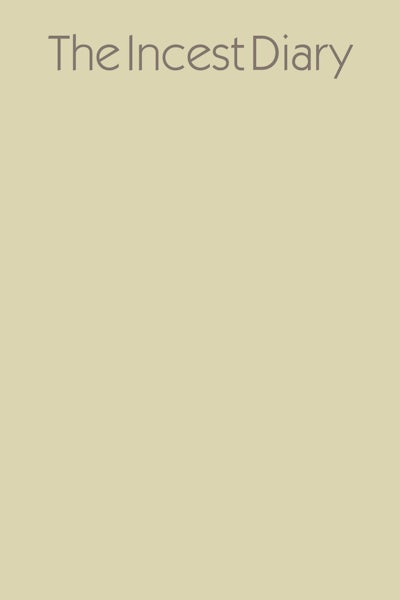 THE INCEST DIARY by Anonymous.Farrar, Straus and Giroux, 144 pp., $18.00.
Sexual abuse in families is not rare. Yet it is almost made invisible by the layers of stigma in which it is wrapped, which are so dense as to be opaque. Consider The Incest Diary, a memoir by an anonymous woman that describes her father's abuse of her from early childhood through adulthood. The abuse is violent and persistent. She describes his acts upon her child's body in detail. When I saw this title in the catalog from Farrar, Straus and Giroux, I could not understand what it was doing there. FSG is a literary outfit, not the publisher of misery memoirs for the prurient.
Such was my prejudice, and such is the prejudice of a society that thinks the victims of abuse do not quite have the right to their own experiences, including the right to turn them into literature in whatever way they please. The critical reception has demonstrated this assumption amply. In her cruel review in the Telegraph, Allison Pearson wrote that "the reader who would like it best is a pedophile," because the book describes what pedophiles do to children. In the Times, Dwight Garner wrote, "This book offers more sensation than perspective." He also called some of the author's descriptions "porn lingo."
The crimes committed against the author of The Incest Diary have so wholly shaped her sexuality that she comes to ambivalently enjoy these encounters, and to place the rest of her sexual life in relation to them. She writes about an orgasm she has with her father that is more powerful than any she subsequently experienced in a twelve-year marriage. So yes, she writes about her father's "big hard cock." Porn lingo such words may be, but they are the truth about the formative role that the abuse has played in her sexuality. How can one be polite, when what one means is "big hard cock?" Should she not use the word "pussy," because she's talking about her dad touching it? And if those words are what it takes to communicate the truth in writing, then what other words can she use?